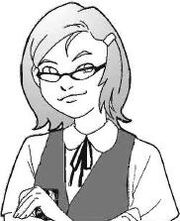 Barbara Goldstein (nicknamed Babs) is a character whose stats are given on the Witch Girls Adventures RPG page 159.
She was initially in a 5-student traditional Jewish mystical program until switching to Willow-Mistt when she was ten years old.
Comparisons
Edit
Her name is similar to that of DC Comics' Batgirl also named Barbara/Babs and who has a similar last name, 'Gordon'. Both Goldstein and Gordon are experts in computers, with Goldstein knowing Computers and Gordon excelling in Hacking as Oracle.
Going back to Batgirl's roots, Goldstein is described as "bookish" and Gordon was a librarian.
The mascot for Channel M also bears a resemblance to Oracle, although she looks older, and has visible elf ears. While Goldstein is not stated to be an Elf or Fae, her picture in Adventures is notably hiding her ears. However this character appeared on a compilation for the earlier comics so is not babs.
The actual girl expert in Cybermancy magic is Monica Green though, and the most known proficient users based on statistics are the teacher Susan Kroft and Mod Mia, although Emily Foster is the (unstatted) Outsider credited with inventing it.