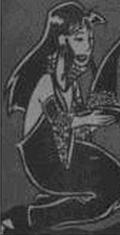 Initially referenced on page 19 of OWG! as the Helena's mother, the mother of Helena Deville (and Tara and Annabelle's father also) is also, respective to original Witch Girls members Janette and Annabelle, the Deville cousins' grandmother.
Ad blocker interference detected!
Wikia is a free-to-use site that makes money from advertising. We have a modified experience for viewers using ad blockers

Wikia is not accessible if you've made further modifications. Remove the custom ad blocker rule(s) and the page will load as expected.