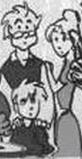 Donny (not to be confused with Don) is an old friend of Janette (and her other friend Kamesha). He is a mortal and grows infatuated with Annabelle after she joins the circle.
A vision of Donny's mom and dad is seen on page 32 of OWG! when Denora uses an illusion to entrap him and have her daughter Claudia kidnap him.
Ad blocker interference detected!
Wikia is a free-to-use site that makes money from advertising. We have a modified experience for viewers using ad blockers

Wikia is not accessible if you've made further modifications. Remove the custom ad blocker rule(s) and the page will load as expected.