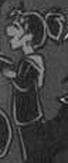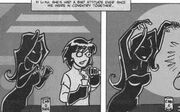 Helena Deville is the aunt of Janette and the sister of Tara (Janette's mother). Helena's brother is the father of Annabelle, whom Helena is also the aunt of. Her nieces, the daughters of her sister and brother, are therefore cousins.
Helena's mother (the also Tara's mother, Janette's grandmother and Annabelle's grandmother) is seen in a flashback with Helena as a child on page 19 of OWG!.
She and Olma and Denora all want to become the Halloween Witch.
In BWFF Annabelle says to Lucinda Nightbane "sorry about my Aunt Helena contacting your sister" indicating that Helena has been in contact with Millicent Nightbane.