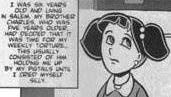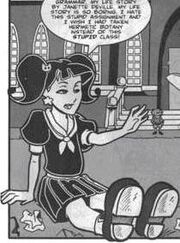 Janette Deville is the cousin of Annabelle Deville. She is one of the originals.
She has a brother Charles who is 5 years older than her. She reflects in a flashback to when she was 6 years old that he used to torture her.
Millie is her spiritual successor, sharing a relationship with her little sister Lucy similar to what Janette shares with her cousin Annabelle. Fun fact: Anna and Lucy are friends, as seen in BWFF.
Janette's father isn't named. Her mother is named Tara her (and Annabelle's) aunt is named Helena.
In BWFF, Annabelle says that Monica Green sounds a lot like Janette.
Ad blocker interference detected!
Wikia is a free-to-use site that makes money from advertising. We have a modified experience for viewers using ad blockers

Wikia is not accessible if you've made further modifications. Remove the custom ad blocker rule(s) and the page will load as expected.