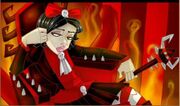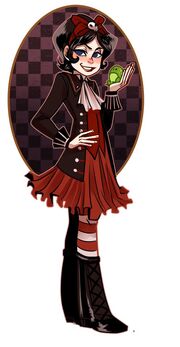 last heard from 4 November 2014
Princess Lucinda Nightbane originates as one of the Willow Mistt team of Witch Girls who then got her own Princess Lucinda series.
On July 16, 2012, her middle name and full title were revealed as:
Princess Lucinda Hexxina Nightbane, Second Princess of the Empire.Lady f the Dark Isle of Corbus.
She and her older sister Millicent are the daughters of Talia and Arturus.
She and Annabelle Deville are BWFF.
Galleries
Edit
See /gallery for more.
Addition info present on subpages at:
Here are clips from a video about her
Facebook videos currently only lists:
Kickstarter video
External links
Edit
Ad blocker interference detected!
Wikia is a free-to-use site that makes money from advertising. We have a modified experience for viewers using ad blockers

Wikia is not accessible if you've made further modifications. Remove the custom ad blocker rule(s) and the page will load as expected.