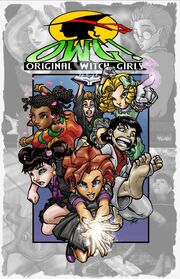 OWG! (standing for Original Witch Girls) is a compilation publication of the Witch Girls comics and Witch Girls Tales Volume 1 comics. It collects the stories of a separate group prior to the Witch Girls Tales Volume 2 comics series. See People for contributors/creators.
This series stars the team original Witch Girls, not the newer new Witch Girls of the 2nd volume of the WGT series.
Followed by pages numbers:
In a podcast interview, Malcolm Harris said that the comics first came out in 2004 (this would be under the Manga Graphix label that morphed into Channel M later)
He also said it was optioned as a movie in 2005. See Witch Girls movie.
Free images from Amazon's Kindle previewer or KindleReader:
There are also many partial images which are scrambled and have to be manually put together, for example: