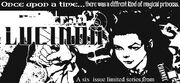 Princess Lucinda is the name of a comic book spinoff of Witch Girls Tales starring Princess Lucinda Nightbane. While slated for 6 issues, only three (0,1,2) have been produced.
Malcolm Harris, creator:
"Princess Lucinda is the prequel to Witch Girls Tales"
"Lucinda has just turned 12"
"Princess Lucinda will be a six-issue color limited series. Each issue will be 44 pages and include a 30-32 page story, Lucinda gallery, Witch Girls Adventures game material and more."
January 18 2013 previews from Abby Soto at Source presumably for issue 2 of the 6 part series (not including issue 0).
Who's Who
Edit
Samples:
Zero: No PDF preview for issue 0 is available
Two: Issue 2 has not yet been published
Three: Issue 3 has not yet been published
YouTube previews
Edit
Videos by PixieBlossom2012: